Updated 7/27/20 – Several recent release have added support for more features:
2006 – Adds support for WS1 Access as an authentication source. This is required for the full "unified" catalog: Web Apps, SaaS Apps, Win32, and Horizon.
2005 – Hub services branding support
After much waiting, the 20.03 console version of Workspace ONE finally adds support for the new Intelligent Hub catalog for Windows 10! While there are still some missing features (we'll get to that later) this finally aligns the Windows 10 catalog with the other platforms, namely Mac, iOS, and Android.
Hub Pre-Requisites
A few pre-reqs are required in order to enable this new catalog:
Console must be upgraded to 20.03 or newer
Intelligent Hub must be upgraded to 20.03 or newer
Hub Services must be turned on (which also requires a Workspace ONE Access instance setup)
Enable the "Intelligent Hub Catalog (Windows Desktop)" under Settings > Apps > Workspace ONE > Airwatch Catalog > General > Publishing Tab.
"Source of Authentication for Intelligent Hub" must be set to either "Workspace ONE UEM" or "WS1 Access"
Let's dive into the details on each of these.
Getting the correct console and client versions
First, ensure that your console is in fact on 20.03.0.0 or later. Click "About" in bottom left of your UEM console.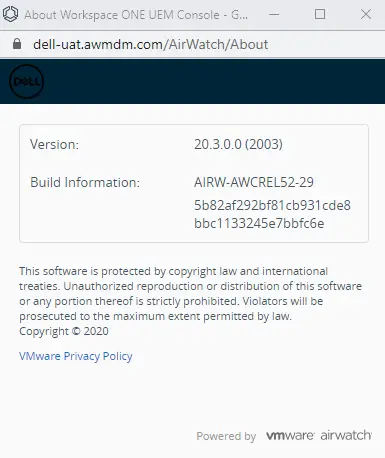 Next, we need to make sure the the hub versions on Windows 10 are also updated. If you have "Intelligent Hub Automatic Updates" checked, this should go out automatically to clients. But we still want to verify. On a client, load up "Apps & features" from the settings menu and find Workspace One. You'll noticed 2 entries:
Workspace ONE Intelligent Hub – This is the new Hub UI components that show the catalog and hub information page. This is UWP (Universal Windows Platform) based. Click on "Advanced Options" to see the version. It should be 20.3.1.0 or later.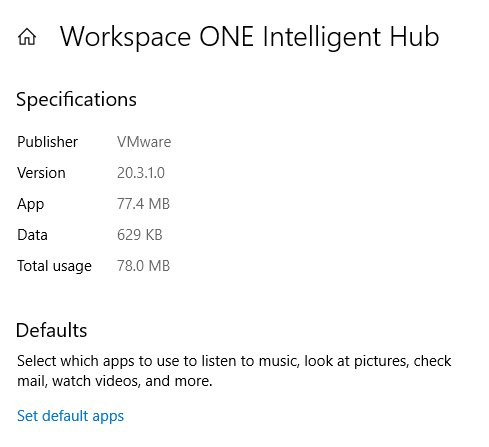 Workspace ONE Intelligent Hub Installer – This is the regular "agent" and handles the normal agent stuff like inventory, profiles, Bitlocker, etc. This should also be 20.3.1.0 or later.


Enable Hub Services
Enabling Hub Services "unlocks" the actual feature. You may have this already turned on if you are using this for iOS/Android. To check go to Settings > Configurations > Intelligent Hub.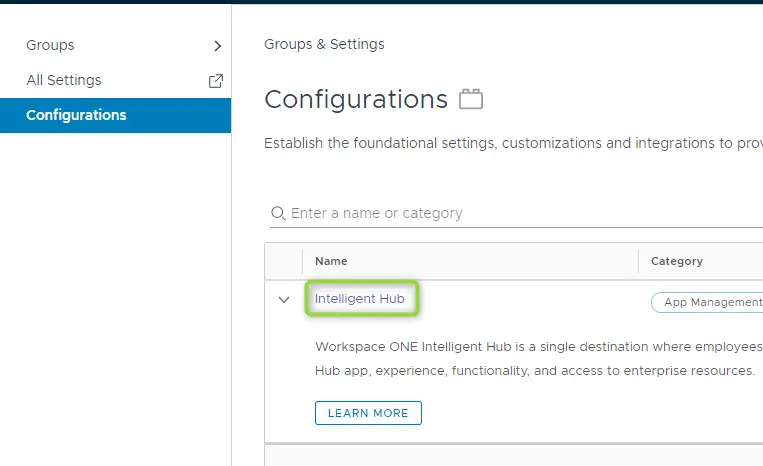 If you go here and see a "Get Started" button, then you know that hub services is not turned on at all. Clicking "Get Started" will bring up a page to enter your Workspace ONE Access (which used to be called vIDM) URL and username and password.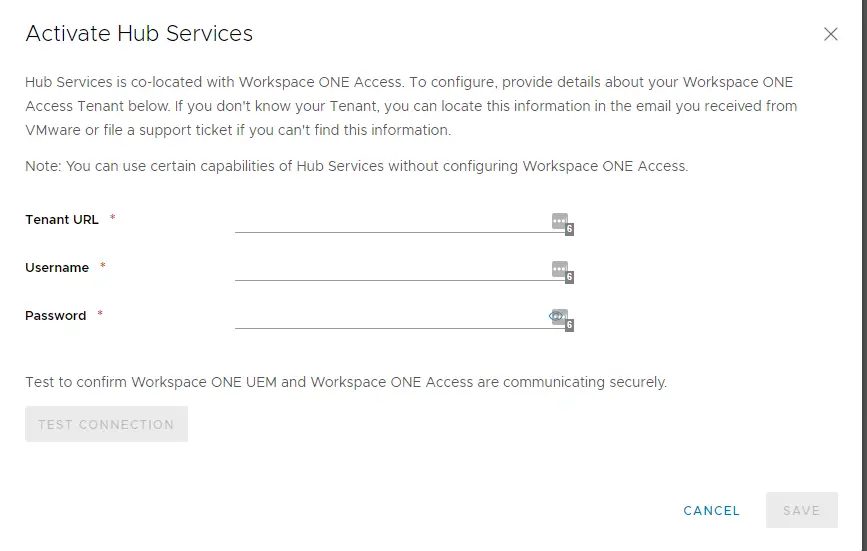 If you are in a shared SaaS environment, you can even request a cloud-tenant of Workspace ONE Access right there and walk through a short wizard to get it enabled.
Once Workspace ONE Access is setup and linked, you should see a page like this: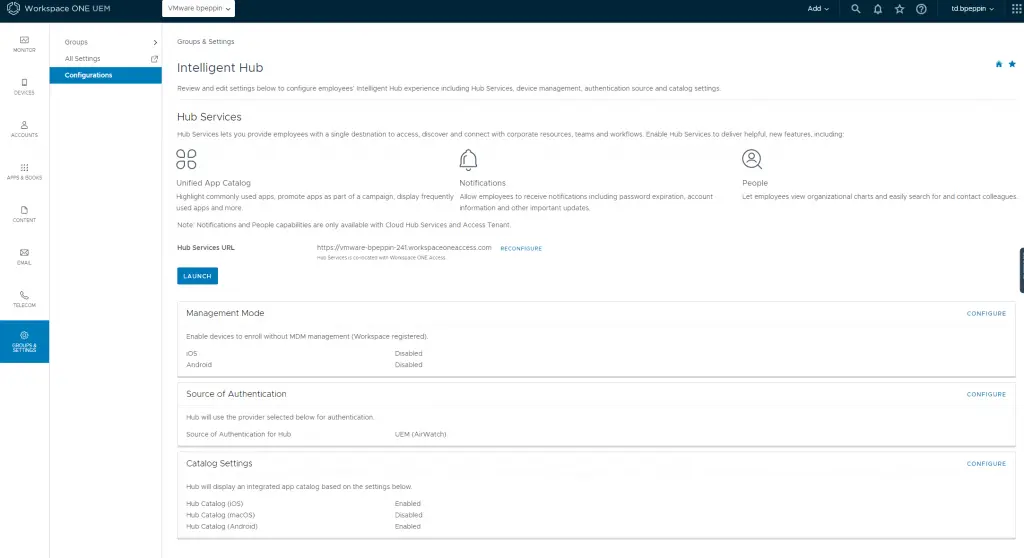 Enable New Hub Catalog
Now we need to "enable" the new catalog. To do so, click on the "Configure" button under "Catalog Settings" in bottom right

Select "Enabled" under "Intelligent Hub Catalog (Windows Desktop)"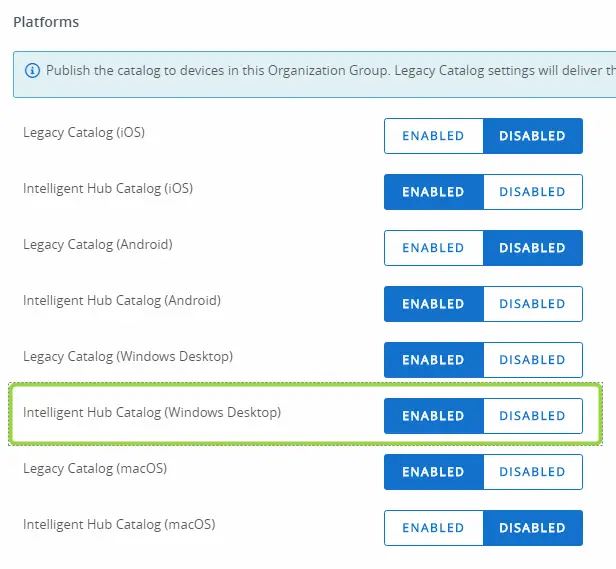 Don't forget to hit Save at the bottom.
Set Source of Authentication
Finally, we need to set the source of authentication for the Intelligent Hub. Go to Settings > Device & Users > General > Enrollment Tab. Setting it to "Workspace ONE UEM" means that the user directly authenticates with UEM and thus only UEM based items (win32 apps, Store Apps) will be visible. UEM is not aware of SaaS or Horizon apps since those are set in WS1 Access. In order to get the full catalog where all entitled apps are visible, set this to "Workspace ONE Access".

Load the Catalog and Install some apps!
After all of these settings are saved, the catalog should now be enabled. To launch it, simple double-click the icon in the system tray.
Find your favorite apps and install away!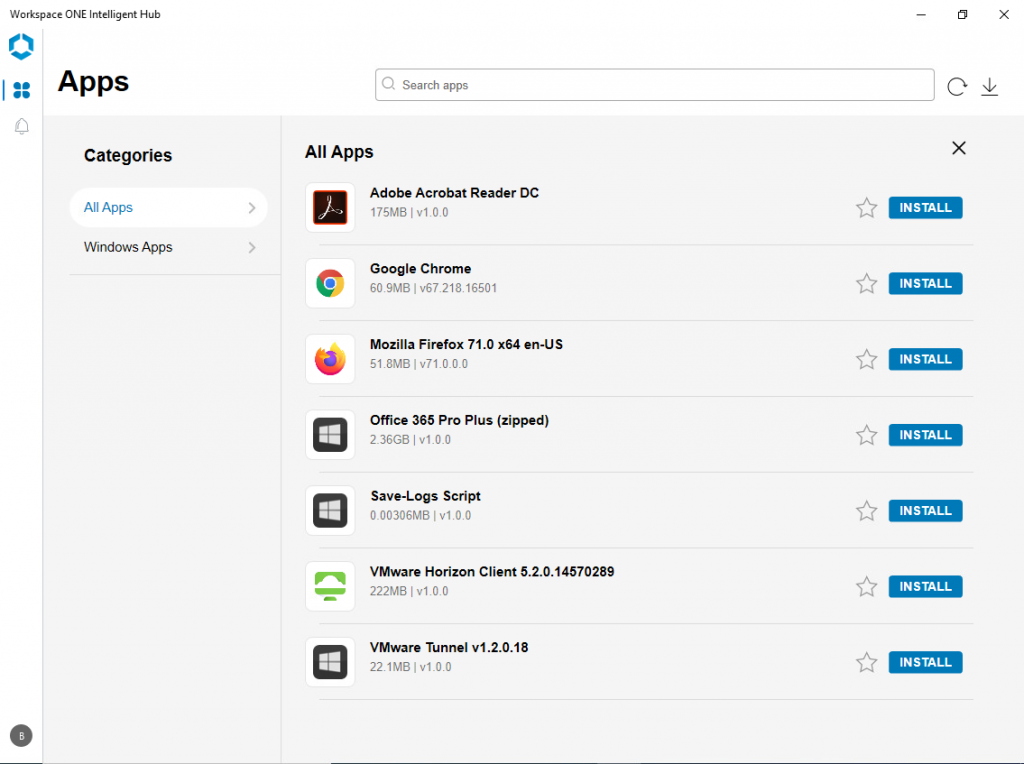 Just a reminder that some features aren't fully implemented yet:
SaaS Apps – Available in 2006 if you use WS1 Access
Horizon Apps – Available in 2006 if you use WS1 Access
Uninstall Apps – Roadmap
Branding – Available in 2005
Notifications – Hub Notifications aren't fully implemented yet either.
Enjoy!